E-Newsletters
Lawn Care and Landscaping E-Newsletters Made Easy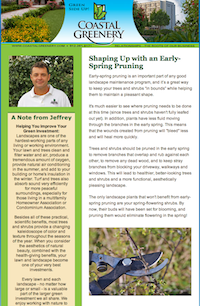 Ever need a quick and easy way to tell your clients about proper watering? What about promoting and explaining beneficial seasonal services like aeration? Our E-Newsletters are the perfect way to keep your clients informed while directing more traffic to your website.
With this new service, content from our extensive archive is now available in an e-mailable format.
We start by working with you to develop a newsletter schedule for the year. Most of our clients opt for monthly newsletters, and we make the process easy enough that this frequency is not difficult to manage. Below are 3 different "editorial calendars" that you can pick and choose articles from. These are just ideas, you can provide us with your own content or request other topics from our archive.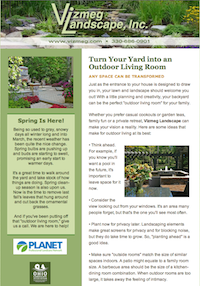 Once the schedule is settled, we customize an html template for you, create a custom masthead and set up an online account for you at growpro.createsend.com.
Then we will set up a newsletter preview and e-mail it to you. We'll take any revisions you want to make prior to distributing it to your e-mail list.
Once the campaign is sent, you can log in to your online account to track the number of people who open your campaign and click through to your website.
Your Next Steps
Below are topic ideas for Lawn Care, Maintenance, Commercial and Landscaping E-Newsletters that correspond to articles already in our library. Look these over and then cut and paste the topics you'd like into the form below. You can also fill in with your own topic ideas if you have ideas that aren't listed here. Once we receive your submission, we'll contact you to firm up the details and your e-newsletter program will be scheduled.
Lawn Care
January: Grass is Nature's Air Machine
February: Recovering From Winter Lawn Damage
March: Controlling Crabgrass
April: Weed Management in Lawns
May: Insects In Turf
June: Summer Stress on Lawns
July: Importance of Watering Deeply This Summer
August: Aeration: Letting Your Lawn Breathe
September: Benefits of Fall Fertilization
October: Perimeter Pest Control
November: End-of-Season Customer Thank You
December: Choosing and Caring for Live Holiday Trees
---
Landscaping
January: Creating an Overall Landscape Plan
February: Highlighting your entry way
March: Improving Drainage
April: Adding Hardscaping for Summer Entertaining
May: Pavers for Patios or Walkways
June: Add Movement With A Water Feature
July: Landscape Lighting
August: Irrigation Systems
September: Proper Placement for Trees
October: Fire Pits
November: Winter Landscapes Can Be Beautiful Too!
December: Choosing and Caring for Live Holiday Trees
---
Maintenance
January: Assess Maintenance Needs Early
February: Dealing With Deer
March: Why Mulch?
April: Seasonal Floral Displays
May: Importance of Feeding Trees and Shrubs
June: Take A Bite Out of Mosquitos
July: Summer Watering: Make Every Drop Count
August: Plan on Aeration
September: Perimeter Pest Control
October: There's Still Time to Fertilize
November: Attracting Birds In Cold Months
December: Plan on Plants for Holiday Cheer
---
Commercial
January: Planning Improves the Value of Landscape Care
February: Managing Traffic
March: Pre-Emergents In Turf
April: Integrated Weed Control Programs
May: Fine Tune Property With Chemical Trimming
June: Maintaining Clean Water With Aquatic Controls
July: Ornamental Grasses
August: Planning for Lawn Repairs
September: Outdoor Meeting Spaces
October: Fall Fertilization Key to Good Spring Start
November: Schedule Additions and Improvements Now
December: Thanks for Another Great Year!